The 90's Children Of Hip Hop
Remember back in the day when Hip Hop was for the kids?....The golden era produced some of the dopest pre-teen rappers to ever breath on the mic. Im sorry but Lil Bow Bow & Lil Romeo don't have nothin on these cats..........

Kriss Kross - Totally Krossed Out
Password: lectro.ru
Tha title says it all. This is strictly for tha kids. It doesn't fail at being just that so I guess this album was a success for them. They did have a few tracks on here that transcended age but not enough to pay for. This is a good listen if you wanna take a trip down memory lane though.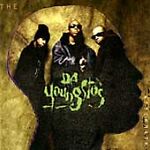 Da Youngstas - Da Aftermath
Da Youngsta's were the definition of raw talent back in 1993. However unlike shyheim who carried on as a Wu Affiliate, Da Youngsta's disappeared into thin air, shortly after their last album "I'll make you famous" dropped. It's such a shame, as Taji, Qur'an & Tarik were some of Phillies best Mc's regardless of their age.
Illegal - The Untold Truth
Illegal's The Untold Truth from 1993 is still a classic to this day! Unlike the more clean cut Kris Kross or ABC, these young rappers cursed. But with some tough beats to match it. They never held back on all of their album and they had some funky numbers in Head or Gut, the Erick Sermon funk of We Gets Busy, Diamond D's funky Illegal Will Rock, and Lord Finesse's On The M.I.C. and its no nonsense style.
Chi Ali - The Fabulous Chi Ali
This album is dope...classic dope. First off, The World Famous Beatnuts produced the entire album, so you know the beats are all on point. To bad he's doin a lifetime bid for killin his girlfriends brother over drug money!!!
Shyheim - A.K.A The Rugged Child
This debut by Shyheim aka the rugged child can not go ignored by any fan of Early 90's - Mid 90's Hiphop. This album is classic Original NY dark hiphop at its finest. Despite the high pitched voice that shyheim has (since he was like 11 when he did this), this is one of the hardest & straight street albums to come outta 1993.
Another Bad Creation - Coolin At The Playground
IESHA you are the girl that I never had and I want to get to know you better. Classic, classic. I used to play this cassette until it died.